| | |
| --- | --- |
| The Flanagans' | Christopher Columbus' Ship Niña |
A Five Day Trip Aboard
The Replica of
Christopher Columbus' Ship
Niña
Links to Niña related sites:
---
Late in May, 1999, I answered a phone call from Captain Morgan Sanger. Out of the blue, Captain Sanger offered me the opportunity to fill in for him as the Captain of the Sailing Ship Niña! The rivers had been at flood stage for several weeks, and the Niña was overdue for an appointment in Hannibal, MO. Captain Sanger needed to spend some time with his sons at the close of their school year. He was particularly concerned that, with high water, there would likely be lots of trash and drift floating down the river. Captain Sanger wanted us to wait to start for Hannibal until the river had begun to fall. His hope was that this would lessen the chance that we would damage the propeller or the shaft that would drive the ship up the river.
I told Captain Sanger that I would have to talk this over with my wife and daughter. Surely he understood that I would be stealing precious time from them in order to accept this exciting opportunity. Leann and Laura shared my enthusiasm for the project. They recognized how rare opportunities like this are. The following day, I called Captain Sanger in the British Virgin Islands and left the message that I would accept his assignment.
Several days later, I received another call from Captain Sanger in which we firmed up the details of the trip. The following logs give details of how the trip progressed for us, and how I recorded my impressions, at the time.
---
Sailing Ship Niña -- Daily Cruising Log
6/3/99

0600 Underway S/B from Beans' family landing, mi. 949.5 Ohio River
0940 Rounded Cairo Point -- N/B Upper Miss.

6/4/99

0600 Mi. 44 N/B Upper Miss.

6/5/99

0600 Mi. 114 N/B. Upper Miss.
0800 to 1015 Replacing Seized Cooling Water Pump -- Mi. 119.5
0810 to 1045 At Anchor Making Repairs

6/6/99

0600 Mi. 175.5 N/B. Upper Miss.
0725 to 0855 Waiting for traffic to clear Eads Bridge -- Mi. 178
1030 to 1105 Mi. 185.5 Waiting and Locking #27
1315 to 1330 Mi. 200.8 Locking Melvin Price Locks
2140 to 2255 Mi. 241.4 Waiting and Locking #25

6/7/99

0445 to 0655 Mi. 273.4 Waiting and Locking #24
1305 to 1315 Mi. 301.2 Locking #22
1515 Mi. 309 On Display at Hannibal
---
My personal log of the trip
Wednesday, June 2, 1999 --
Adventure begins today! I'm aboard the Christopher Columbus Replica Ship Niña. It is TINY! I'm going to be its Captain on this trip from a private dock on the Ohio River near Joppa, IL to Hannibal, MO. We are going to leave at 6:00 a.m. tomorrow morning and we are scheduled to arrive in Hannibal on Monday, June 7.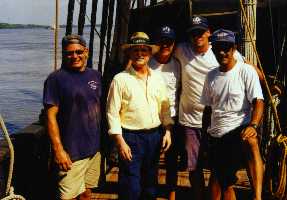 There are five of us aboard the ship. Cesar is Brazilian and a member of the family which built the ship. Joe is the manager of the ship and he and Louis Beans met me at the Paducah airport. They gave me the grand tour when we arrived at the Ship which is docked at the Beans family's landing.

"Doc" is from Sheboygan, WS. Dave is from Port Birmingham, AL. Dave is an ex-oil exploration vessel crew-member. All are personable folks and we will do just fine.
---
5:20 a.m. -- June 3, 1999 --
I'm up and the ship is quiet. I've asked everybody to be ready to leave at 0600. There is a little bit of light out already. And there is a little surface fog rising off the water. We won't have to wait for this fog to lift, I don't think. I'm headed up on deck to begin my first day on the Niña.
5:15 p.m. -- June 3, 1999 --
I've taken a nap and I just woke up, I don't know where we've gotten to. We left on time this morning. We rounded Cairo point about 9:40 a.m. It is a very slow old go up the Upper Mississippi, a steep slope up to Cape Girardeau. We made about 2 ½ mph for an average this morning.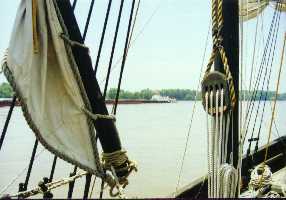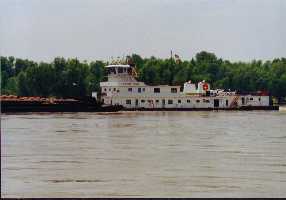 We met the M/V Peter Fanchi about 13:00 below Hurricane. The Fanchi is the boat that I regularly ride for Midland Enterprises to make a living. My bragging rights are established! [The M/V Peter Fanchi was purchased by Ingram Barge Company on September 15, 2003.]
---
5:00 p.m. -- June 4, 1999 --
Just above Hanging Dog Bluff. I was up all night last night and I expect to be up again for at least most of tonight. The regular crew here has a harder time of it after dark. They rely on the radar a lot.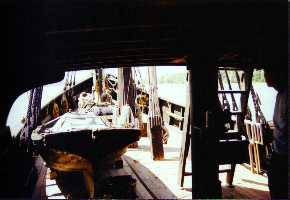 The visibility from the tiller bar is so restricted that they often don't really look forward to check on their swing, their rate of turn. Instead, they wait for it to show up on radar and it gets a bit extreme sometimes, before it gets checked. They do much better during the daylight.
The crew is a good bunch of guys. Cesar is the most experienced, the most accomplished and the most trustworthy at the helm. I usually am able to relax when his 1 ½ hour turn at the tiller comes. All of them are conscientious and work hard to do a good job.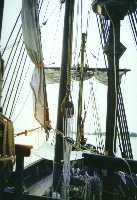 We have stalled out several times. I directed us over to the bank at Scudder's Upper too soon and we had a hard, hard shove up past the light. We got Thebes Bridge just after daylight. Cesar got us up around Gray's Point in fine shape. Dave caught Cape bridge in traffic, and we had a hard time with the turbulence created by the cofferdam around the pier for the new bridge under construction. It was a slow shove up to the sand dock, then I kept her close to the Missouri shore into the eddy below Cape Rock. And all of this with one S/B boat after another clipping past. I finally got some rest after a 17 hour watch.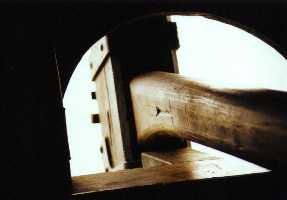 The first day out, everyone was well rested and lots of sightseeing was going on. Today, actually beginning last night, people have been more eager to get good rest when they get the opportunity. The custom on the Niña is to work 3 hr. watches, and each of the two people on watch take 1 ½ hr. turns at the tiller and at the forepeak as a lookout. The system seems to suit them.
What a gas this is! It is fun to try on a pair of shoes that Christopher Columbus enjoyed wearing! It is an exhausting time for me, but I am enjoying it Beaucoup Bunches!
---
6:30 p.m. -- June 5, 1999 --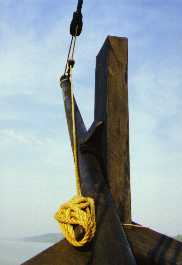 Fults Dock, N/B -- I woke up around Hines Light this afternoon. I took us up the backside of Cottonwood Bar, and met a boat just above Tucker Point. We waited for S/B traffic below Backbone and got into a little bit of a mess crossing over to Mansker. A N/B tow was started overtaking us when an unexpected S/B boat showed up. We re-overtook the N/B boat, then got past the S/Bounder. And then we had to get the N/Bounder up past us again! There were a few tense moments!
The Chester Bridge was easy. And the sun came up around Cherokee Light. I stayed up until I saw we would clear Fort Gage then went to bed about 6:45 a.m. At 8:00, Cesar came down to the Engine Room, told me that he had a problem -- went back up and idled the Engine -- came back down and said that he had lost his cooling water pump. The pump had seized and the drive pulley sheared its key and came off the shaft.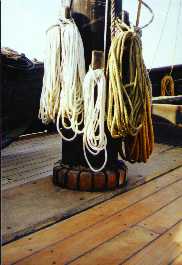 We set the anchor below Moro Island, then shut down our overheated engine and dug out a new water pump. Making the old pulley useable again was a challenge. Dave's Nascar experience with a wrench was a big help to us. He did excellent work as he sawed and filed and chiseled to get the old, wallered-out pulley to work well on the new pump's shaft.
Communications has been a bitch! Capt. Sanger asked us to call him through Maritel, every morning around 9:30 a.m. We called him as we were entering the Upper Miss. at Cairo, and we haven't gotten through to him again, since! The Maritel system isn't working well for us. Their Cairo station works. Cape Girardeau is saying that it is out of service, use Cairo instead. Dry Hill won't answer us on 86 at all -- we've been trying them for two days! I even asked a passing tow boat to try to raise them and his more powerful antenna couldn't get them either. Maybe St. Louis will work for us.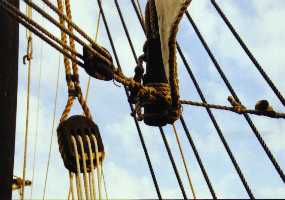 Eads Bridge has been a concern for me. Our mast measures 47 ½ feet according to Capt. Sanger. "Zero" on the St. Louis Gage is equal to an elevation of 379.94' MSL. 454.0' MSL is "Low Steel" elevation on Eads Bridge. St. Louis gage was 28.1' yesterday. Now I've never been exactly sure about what "Low Steel" means at Eads Bridge. Is that the elevation of the red triangles that mark the 300' width of the span? Or is it the elevation of the steel attached to the piers -- the lowest steel in the span? I'm going to learn something else new tomorrow.
The procedure I've worked out with the crew goes this way: Joe will be in a Bo'son's chair on the mast. Cesar will be on the tiller -- he is the smoothest of us all. I'll be directing him through the center of the bridge from on the deck, where everything can be seen. The man on the tiller can't see the bridge span well from under the roof. The system should work. I really expect we will make it just fine. Sometimes I'm over-cautious.
---
5:30 p.m. -- Sunday, June 6, 1999 --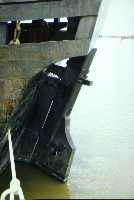 It has been a remarkable day! Of course, I was up all night working us up to and into the St. Louis Area. By about 8:00 a.m. we were ready for the St. Louis Bridges. First, we waited for all the traffic to clear out so there would be absolute freedom in the case that everything went nuts. We followed the M/V Beverly Ann up through the bridges. Joe was riding the mast; Cesar was at the tiller; Dave was a forward lookout with the instructions, "If it will bounce off, I don't want to hear about it." And Doc was relaying information from Joe down to Cesar and I. Together, we put this vessel squarely underneath the Green Lights on the Eads Bridge! It was absolutely perfect. We have a fine team!
We called the Coast Guard this morning asking for some assistance in getting a message to the office in Tortola, British Virgin Islands. The very nice man in Keokuk, IA got in touch with Maritel and they said they would get a message through. I will call from a land line at Lock #25 and leave a message on their machine.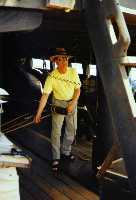 At Locks #27, Cesar handled the boat. He did a fine job. At Melvin Price, I tried my hand. I did okay, but Cesar is much better. We met two tows that were approaching the locks S/B and we got clear of the Alton Bridge. THEN -- we set out some SAIL! I drove for about 12 or 15 miles up towards Grafton with two of the Niña's sails unfurled. We attracted the attention of the Sunday Boating crowd. And I had a blast! I'm terribly sleep deprived, but I'm having a BALL! We're passing Squaw Island now. I don't expect we will make our appointment at Hannibal at straight up noon, but 2 or 3 p.m. is very possible.
2:00 p.m. -- Monday, June 7, 1999 --
We've gotten above Locks #22 now. We had delay at #27, #25 and #24. We went straight in at Melvin Price Locks and again at #22. Last night I got off at Locks #25 and put a quick message onto the Niña answering machine in Tortola, British Virgin Island. We haven't been able to have a direct conversation with them since Cairo Point. Maritel's communication sucks! I gave an eta of 3 to 4 p.m. today -- it looks like a pretty good eta, today, too.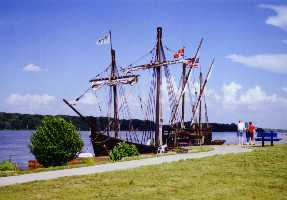 We got Joe off at #22 to make a quick phone call. The tug Sir Randall is setting up a barge for us to dock against. We will have the press aboard this evening and will open for business first thing tomorrow morning.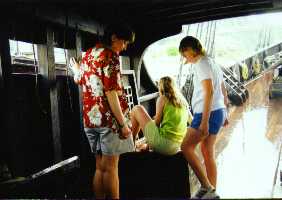 I haven't been able to get in touch with Leann at home, yet, either. I'll try again in a few minutes. Last night, I had several boats who said that they had tried to answer our calls, but we hadn't been able to hear them. Maybe Leann can hear me, and we just can't hear her.
Cesar is scrubbing a little travel dirt from the deck. The vessel is in fine shape for show, and I need to brush my teeth, now.
---
9:30 p.m. -- June 7, 1999 --
I'm at home now. I'm wonderfully happy that I was asked to do this. I'm glad that my wife and daughter appreciate my enthusiasm for it. I wouldn't trade the experience of having done this for anything in the world.
| | |
| --- | --- |
| | © 1999, 2003, Mike Flanagan |