| | |
| --- | --- |
| The Flanagans' | Inland Waterways |
River Tales: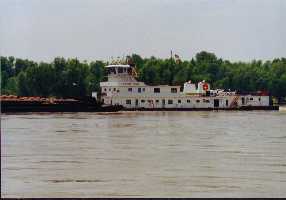 Mike's home away from home was the M/V Peter Fanchi which has been renamed the M/V Aubrey B. Harwell, Jr. For thirty-five years, he was leaving his home and his family every other month; and finding a towboat to ride up and down the rivers. Ah well, it made us a living!
---
Links to World Wide Web sites about America's Rivers and the River Transportation Industry:
Mike works for Ingram Barge Company the largest operator of Towboats and Barges on America's inland waterways.
The Waterways Journal is the Weekly Trade Newspaper for the Inland Waterway Industry.
The United States Coast Guard regulates commercial traffic on the rivers as well as the commercial traffic that approaches our coasts.
United States Coast Guard Local Notices to Mariners are updated weekly.
Few pleasure boaters seem to be aware of the Rules of the Road.
The most recent revision of the U. S Army Corps of Engineers' report on restructuring navigation on the Upper Mississippi and the Illinois Rivers.
Three states working together on a common project? Imagine a Mid-America Intermodal Authority Port District centered around Quincy, Illinois!
MARC 2000 is a coalition whose primary goal is to create a series of more efficient, 1200 ft. locks.
The Seamen's Church Institute Center for Maritime Education in Paducah, KY provides valuable continuing education to seasoned towboat pilots.
The River Industry Bulletin Board is the source for vast quantities of river related information.
The National Transportation Safety Board investigates every accident in every mode of transportation.
The Environmental Defense fund is an advocate for the health of the waters of the world.
American Rivers, an online community of river activists and friends.
Little River Books is a specialized source for books about America's Inland Waterways.
The University of Missouri at St. Louis' Mercantile Library houses the Herman T. Pott National Inland Waterways Library; a major repository of information about the Inland Waterways System.
| | |
| --- | --- |
| | Last Revised: Monday, August 4, 2008 |
Return to the Flanagans' Home Page
Send E-Mail to the Flanagans.