| | |
| --- | --- |
| The Flanagans' | The Cramer's Photographs |
Jacob and Margaret (Winklehake) Cramer's family numbered nine children! Six were girls and three were boys, though one girl died young. Around 1909, they moved to Virginia, Illinois, where Jacob made his living operating a livery stable. Quoting the Historical Encyclopedia of Illinois and History of Cass County, Vol. II, dated 1915, p. 870:
Jacob H. Cramer has for years conducted a large business handling horses and mules, generally keeping about twenty head. In connection with this line he buys and sells, and is one of the heavy dealers of this section. Mr. Cramer also handles farm machinery, wagons and buggies, and conducts a first class livery, owning twelve head of horses, and is prepared to do either light or heavy hauling.
The Cramers lived in a large and historic residence in the central part of Virginia, Illinis. The house had been built by a Doctor, and they purchased it from Mr. Petefish, the Banker.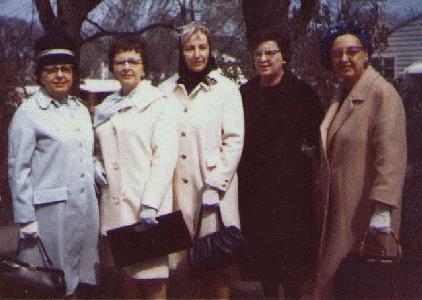 The Sisters, all grown up and with families of their own
Left to Right: Hazel, Betty, Dorothy, Nina and Pauline.
Jacob Cramer and Margaret Winklehake.
We think that this picture was probably taken in Springfield, Illinois at their wedding, November 2, 1905.
On the left is a much nicer photograph of Margaret Winklehake.
And on the right is a picture of three of her daughters; Pauline, the eldest, Dorothy and Betty, the youngest. No there aren't five, the others are only dolls!
The Grandfathers:
On the Left is Englebert Cramer (1856-1945) of Bluffs, Illinois.
And on the Right is Henry Frederick Winklehake who was born in 1858 in LaGrange, Missouri.
| | |
| --- | --- |
| | Last Revised: Monday, August 4, 2008 |
Return to the Flanagans' Home Page.
Return to the index of Photograph Galleries.
Return to the Flanagans' Genealogy Page.
Send e-Mail to the Flanagans.