| | |
| --- | --- |
| The Flanagans' | Coat-of-Arms |
Return to the Flanagans' Home Page.
Return to the Flanagans' Genealogy Page.
Return to the First three generations, a guide to the Flanagans' Genealogy.
View our Flanagan Family Tree.
View Cadwallader Jones' Family Tree.
Send E-Mail to the Flanagans.
More about Irish Heraldry.
"At the Sign of the Crest"
From the magazine HOBBIES--The Magazine for Collectors, August, 1947--p.140
by Mabel Louise Keech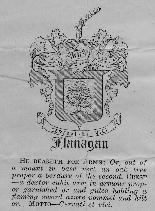 HE BEARETH FOR ARMS: Or, out of a mount in base vert an oak tree proper a bordure of the second. CREST--a dexter cubit arm in armour proper garnished or and gules holding a flaming sword azure pommel and hilt or. MOTTO--Certavi et vici.
The above description of the Flanagan Coat-of Arms is registered in O'Hart's "Irish Pedigrees," Burke's "General Armory," and Fairbairn's "Book of Crests." The descriptions by Burke and Fairbairn are recorded under "O'Flanagan," meaning "The House of Flanagan."
Translated into non-Heraldic terms: A gold (or) shield on which is charged an oak tree of natural color (proper), issuing from a green (vert) mount or mound in the base of the shield. This is surrounded by a border of green which is the "second" color named. The crest is a right (dexter) forearm (cubit arm) clad in armor of natural color (proper), garnished or decorated with gold and red (or and gules). The hand holds a flaming sword blue (azure) in color, with the handle and crosspiece (pommel and hilt) of gold (or).
The oak is the king of trees, emblematical of antiquity and strength. Wreaths of oak leaves were consecrated to Jupiter, and the tree itself was held sacred by the Greeks. It was held in veneration and greatly worshipped as a symbol on an armorial bearing.
The border or "bordure" is one of nine so-called "Honourable Ordinaries." straight-lined figures, first symbols used to identify men encased in armour. This form of bearing is of great antiquity, and is granted as an augmentation of honor.
The arm designates a laborious and industrious person, and the hand a pledge of faith, sincerity and justice. These encased in armour denote preparation for service to one's country.
The sword is "a weapon fitted for execution and justice and is a true emblem of military honor and virtue in war-like deeds." The flaming of the sword adds the meaning of zeal to this charge.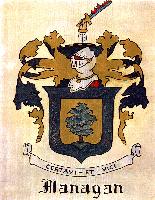 Colors are representative of the personal characteristics of the original bearer, and are granted only upon merit. Gold signifies generosity and elevation of mind; green, sturdiness and strength; red, courage and magnanimity; blue, loyalty and truth.
The Latin motto is translated "I have fought and conquered."
In the drawing, the color code is as follows: dots, gold; green, diagonal lines. The vertical lines for red, and horizontal for blue, in the crest, are too fine to show.
After the "blazon" or description, in his General Armory, Burke writes: "O'Flanagan is a Sept in Connaught of the same race as O'Donnellan, deriving their name from Flannagain who ruled over the territory of Nagh Aoi, co. Roscommon. This Sept enjoyed the hereditary office of Steward to the Kings of Connaught."
John O'Hart has 2 volumes called"Irish Pedigrees," and many histories of ancient families brought down to within a century, are recorded therein, but a correspondent from Dublin says that his ancient lines are not always to be relied upon. Rooney is also a good authority, and when these two check, we can be reasonably assured the lines are correct. At least, in the case of "FLANAGAN," what is culled in these next paragraphs is doubtless reliable.
Flann or Flainn (floin or flin) means blood; and the full name Flanagan means "the descendants of the red-complexioned man."
Names derived from FLANN, are Flanagan, Flanagin, Flannagan, Flanaghan, Flanigan, Flinn, Flynn, Glenn, Glynn, Linn, Lynn, Macklin, Maglin, Maglon, McGloin, MacFlancha, Clanchy, Clancie, Clancy, MacClanchy, Clinch and Clanchy. (Quite an assortment!)
Generations back of Flanagan, is FORGHARTACH, the son of FINACH TACH (fionn-sneachta) Irish for "as fair as snow" --all of Ulster.
19 generations back of him, ART EANFHEAR, 112th Monarch of Ireland
44 generations back of him, is HEREMON, considered to have been the most distinguished of three brothers, who, with his brother Heber, was jointly 1st Milesian Monarch of Ireland, beginning their reigh in 1699 B.C. Their father was Milesius, King of Spain. Then O'Hart goes back 36 more generations to Adam! This part is conceded to be incorrect -- as far as the connection between Milesius and the Bible genealogy of Adam's line is concerned.
"O'Flannagain, one of the 12 great lords of Cruaghan, in the county of Roscommon, anglicized Flanagan, Chiefs of the Clan Cathail, territory in the barony of Roscommon, north of Ephin."
Rooney, in his "Genealogies of Irish Families," adds that there was also a branch of the family from Heremon's brother Heber. The founder was Kiam, son of Olliol Olum, King of Munster A.D. 177, Possessions of the sept were in the present co. Waterford.
The Flanagans reading this ancient family sketch may get much enjoyment from it, but they must also realize that for more than a hundred years men of their name have been loyal citizens of the United States of America. They have among them builders, engravers, doctors and lawyers. "Who's Who in America" lists several, one, --John Flanagan, a noted sculptor, who was a pupil of St. Gaudens; another who was born in Ireland, is the famous "Father of Boy's Town."
The one who owns the bookplates from which this cut was taken, is named "Patrick," because he was born on St. Patrick's day!
The oak tree and green, denoting strength and sturdiness, are very appropriate symbols for these bearing the time-honored name of "FLANAGAN."
Return to the Flanagans' Home Page.
Return to the Flanagans' Genealogy Page.
Return to the First three generations, a guide to the Flanagans' Genealogy.
View our Flanagan Family Tree.
View Cadwallader Jones' Family Tree.
Send E-Mail to the Flanagans.
More about Irish Heraldry.
| | |
| --- | --- |
| | Last Revised: Monday, August 4, 2008 |